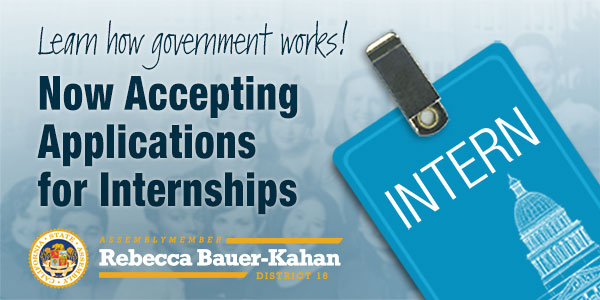 The Office of Assemblymember Bauer-Kahan is seeking an intern for the Fall of 2022. During the Fall, the emphasis will be on community outreach event planning and the start of the legislative process.
Thank you for your interest in an internship with the District Office of California State Assemblymember Rebecca Bauer-Kahan.  The window to submit a Fall internship application will open on July 30, 2022, and will close on August 15, 2022, 11:59 p.m.
We are looking for collaborative, inclusive individuals who are eager to learn and apply the skills necessary to work in a legislator's district office, including working with constituents and community stakeholder groups, researching and writing policy memos, conducting community outreach efforts, managing casework, working with databases, organizing civic events, and staffing the office. Internships are open to high school graduates, college students, and adults interested in learning about working in a state legislator's office; high school seniors are also welcome to apply. Internships with the Assembly are unpaid and the fall internship will begin September 12, 2022, and conclude on December 9, 2022. 
Internship Applications: If you previously applied, we ask that you submit a new application as your circumstances may have changed; please use the webform below to apply. Fall interns must commit to a minimum of 3 hours per week. The exact hours of the internship will depend on the intern's schedule, and will be determined by staff.
How to Apply: We will be accepting electronic applications through the webform below. A cover letter and resume must also be attached in order for your application to be considered complete. If you are unable to apply online, please send or drop off your cover letter, fall schedule of availability to work in the office, and resume to 12677 Alcosta Boulevard, Suite 395, San Ramon, CA 94583. We must receive them by August 15. In addition, all finalists selected to be interviewed will be tasked with a brief research and writing exercise. We will not consider applications that are sent to our office via email.
We look forward to receiving your application!
Sincerely,
Assemblymember Rebecca Bauer-Kahan
(And the District Office Staff)