There Ought To Be A Law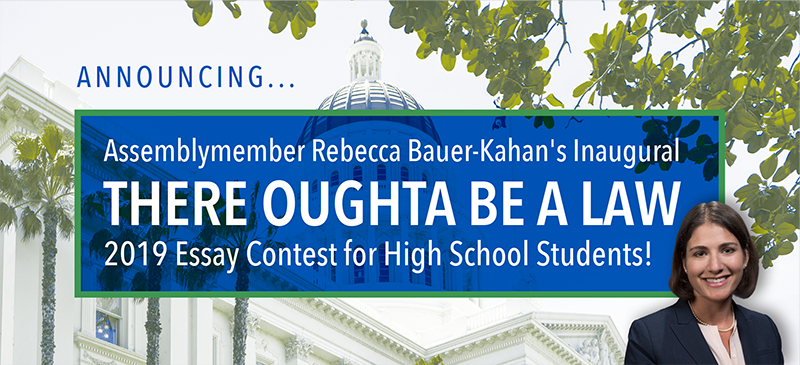 Assemblymember Rebecca Bauer-Kahan invites essay submittals from any high school student currently in grade 9-12 who resides in the 16th Assembly District.
2019 ESSAY TOPIC: Is there an issue or problem in our community that you believe could be solved through statewide legislation? Please write about the issue and focus your essay mainly on your proposed legislative solution to that issue.
ELIGIBILITY: The contest is open to all high school students in grades 9-12, who reside in the 16th Assembly District.
ESSAY GUIDELINES:
Essays can be up to 1,000 words, maximum.
Essays must be original.
Essays should be typed, double spaced, and use no smaller than a 12 point font
Submissions must include your full name, email, home address, grade and name of school (or indicate if you are home-schooled).
Before the 2020 legislative session begins, I would like to invite all Assembly District 16 residents to participate in my inaugural "There Ought to be a Law" program. This program offers constituents the opportunity to propose new state legislation for the upcoming year. Some of the best ideas we work on in the Legislature come directly from constituents who are seeing problems in their neighborhoods firsthand. When we work together as a community, we get better policy outcomes. Proposals can vary from local community improvements to statewide reforms and can be entirely new policies or revisions to existing laws.
To enter, please email your essay to Assemblymember.Bauer-Kahan@assembly.ca.gov and include "2019 essay contest" in the subject line by November 1, 2019 by 5 pm. Please do not mail your essays in the US mail.
---
There Ought To Be A Law 2019
Submission Form – 16th Assembly District