Image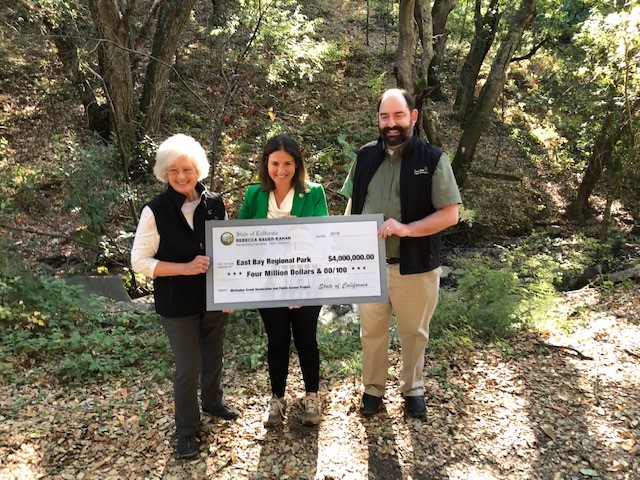 The Project Ensures Wildlife and Habitat Are Protected and Expands Public Access
(Orinda) Today, Assemblymember Bauer-Kahan (D-Orinda) alongside East Bay Regional Park District (EBRPD) Board Member Beverly Lane and representatives from EBRPD, toured the McCosker Creek Restoration and Public Access Project site at Robert Sibley Volcanic Regional Preserve.
Working with EBRPD, Assemblymember Bauer-Kahan secured $4 million in state funding for the project, which will daylight and restore an over 2,000-foot culverted section of creek in the upper San Leandro watershed. In its current condition, giant sinkholes have opened up over failing metal culverts which cover the creek the culverted stream and provides no usable habitat, water quality is poor and at risk of worsening due to fine sediment loads and dissolved metals.
"Preserving our open spaces, protecting wildlife and our environment is crucial. It is imperative the failing culvert and creek are cleaned up, stabilized, and converted to habitat as soon as possible," said Bauer-Kahan. "I am proud to partner with East Bay Regional Park District to secure funding to complete this project."  
The public access amenities will provide opportunities for wildlife viewing, healthy recreation, and environmental education, including interpretive signage as well as a location for rustic group overnight camping.
"The Park District thanks Assemblywoman Rebecca Bauer-Kahan for her efforts in securing funding, and supporting East Bay Regional Parks," said EBRPD Board Member Beverly Lane. "This project returns the land back to its natural state as a thriving creek ecosystem and will provide access so the restored environment can be experienced and appreciated by the public."
"The McCosker Creek Restoration project is the largest creek restoration project in the District's history," said EBRPD Chief of Stewardship Matt Graul. "The project restores 3,000 linear feet of natural stream channel where it's been covered up and culverted for the last 60 years."
The stream restoration design will closely model the predicted pattern, profile, and dimension of a natural stream for this specific valley in order to create a low-maintenance, sustainable riparian and in-stream habitat in the long term, taking into account a changing climate.
The significant project benefits include ecosystem benefits for fish and wildlife, and native and rare plants. Riparian habitat will be created in an area that can support up to ten special status wildlife species, including, for example, the California red-legged frog, golden eagle, Cooper's hawk, California foothill yellow-legged frog, Alameda whipsnake, and San Francisco Dusky-footed Wood Rat.
The project builds upon on a multi-year community land use planning process and strong partnerships including Civicorps, a certified local conservation corps, as well as San Francisco Estuary Institute. The project is anticipated to be constructed over two construction seasons, in 2019 and 2020. EBRPD staff will monitor and maintain the habitat once restoration is completed.