Summer Newsletter
Dear Neighbor,
I hope that you and your family have been having a safe, healthy and happy start to your summer! It's been great to see so many of you in person over the last few weeks with California's full reopening. It has been such a hard last year for so many, and my office has remained focused on our community's full recovery. I want to encourage you to reach out to us at any time if you have questions, concerns, or are in need of assistance with state agencies like the Employment Development Department or need our help. I also wanted to provide you with some updates about our office! 
Our Office is Moving!
Our office will be moving to a new location within San Ramon's Bishop Ranch office complex because of a very exciting project that is bringing brand new housing to the site where we are currently located.
PLEASE NOTE OUR OFFICE PHONE NUMBER HAS CHANGED TO:  (925) 244-1600.  
I look forward to inviting you to our new space.
Covid-19 Delta Variant & Youth Vaccinations
The highly contagious Delta Variant is spreading rapidly in the United States and it is more important than ever for everyone in our community to get vaccinated. I recently held a town hall discussion with public health experts to discuss the efficacy and safety of vaccinations for our youth.  You may view this town hall at the link below.
Youth Vaccination Town Hall - YouTube
State Budget
This month, my colleagues and I sent our 2021-22 budget to Governor Newsom for his approval. This budget will be transformational for our state and Assembly District 16, helping us emerge from COVID stronger than before and getting our kids back in the classroom. It includes funding for health care, fire prevention, programs targeting homelessness, child care – and more funding for education from pre-K through college than any budget in our state's history. It also ensures that our students will be back in the classroom, where they belong, full time when the school year begins next month.
I am pleased to say that I was also able to secure millions in funding for us right here in District 16, including vital funds for upgraded firefighting equipment in our area and additional critical funding for our local open spaces, parks and trails.
This is a budget that all Californians can be proud of and it's just the start of what we will accomplish this year.
AB 988: The Miles Hall Lifeline and Suicide Prevention Act
Last month, I held a town hall at Beth Chaim Congregation in Danville with Rabbi Goldblatt and Taun Hall about my legislation, AB 988, which would reimagine our mental health crisis response in California.  This bill will provide an alternate to 911 by establishing a new phone number (9-8-8) for those experiencing mental health crises.  AB 988 facilitates a mental health crisis response and treatment system by establishing the resources and capacity to appropriately dispatch mobile teams of mental health professionals and trained peers—not law enforcement—to individuals in crisis. This bill creates the same type of appropriate health-based response to mental health crises that we use for other health emergencies. You can find out more about this legislation, as well as how to support it, by watching the town hall below. AB 988 has passed the Assembly and is currently going through hearings in the Senate.
https://www.youtube.com/watch?v=pckyWguHwCY&t=681s
Fourth of July Orinda Parade
I had a blast celebrating Independence Day at the Orinda Fourth of July Parade and marching with Moms Demand Action! The parade was a reminder of how far we have come since last year, thanks to our community's commitment to following COVID-19 guidelines and getting vaccinated.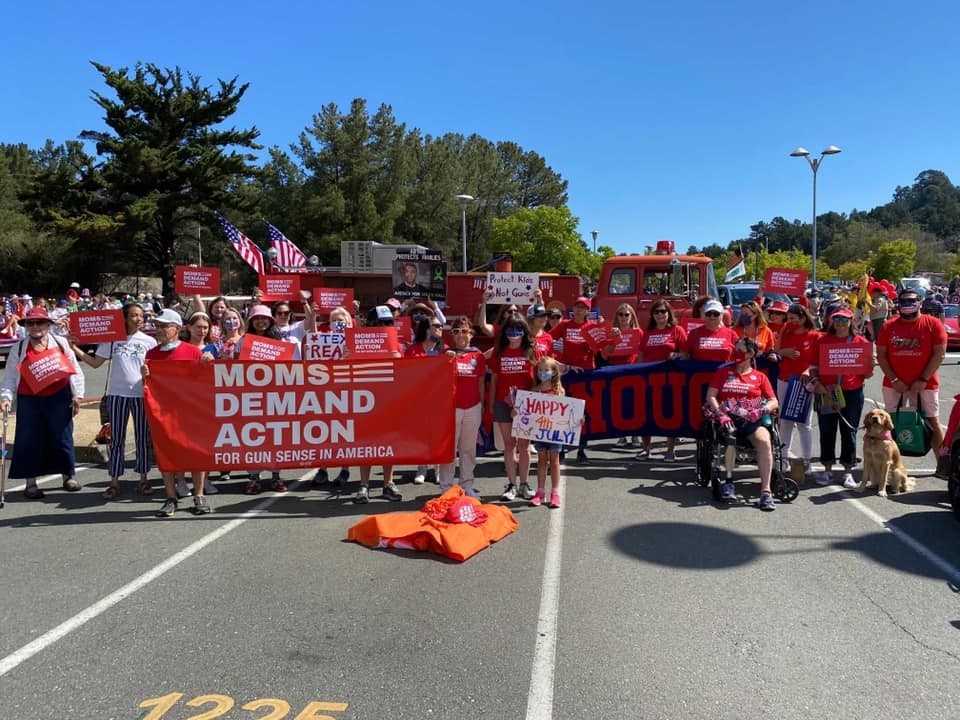 Rental & Utility Relief
The legislature recently extended the eviction moratorium to the end of September to ensure that tenants and property owners can access available rental relief funds as we continue to emerge from the pandemic. You can apply for rental and utility relief at Apply Now - CA COVID-19 Rent Relief - Housing Is Key.
Please reach out to us at any time if you have questions, concerns, or are in need of assistance. You can do so on my website or by calling (925) 244-1600.
I hope you continue to have a great summer and I look forward to seeing you very soon!
Sincerely,

Rebecca Bauer-Kahan
Assemblymember, 16th District
P.S. As always, please feel free to reach out to staff at my district office in San Ramon with any questions, comments, issues or suggestions. http://a16.asmdc.org or (925) 244-1600.