Dear Neighbor,
We're now well into fall, which means that the Assembly session of 2021-2022 has now adjourned and we are able to reflect on all that has happened during this past legislative session. It's been a busy year and I'm beyond proud of the work that my team and I have been able to accomplish – including redefining mental health crisis care through Assembly Bill 988, protecting reproductive rights, advancing gender equity, and keeping our communities clean. There is still so much more work to be done across California, but it's times like these that remind me of how much of an honor it is to be your representative in Sacramento. Fifteen of my bills were signed into law by the Governor this year and it would not have been possible if it weren't for all of you calling in support of those bills, proposing legislation, and supporting my team and me throughout the process.
In this newsletter, you can read more about this session's legislative highlights, how you can contribute to our upcoming bill package for the next legislative session, and our recent events. I wish you all a happy Thanksgiving!
---
End of Session Wrap-up
This year, I had fifteen of my bills signed into law. We came into this legislative session with the hope of protecting and uplifting our communities during a time when it has been sorely needed. One of our biggest legislative wins this year, AB 988, received significant bipartisan support in both chambers of the State Legislature. This new law reimagines our mental health crisis response system - ensuring that Californians in crisis are met with teams of mental health professionals, rather than with a law enforcement-focused response as we've seen in the past.
When Roe v. Wade was overturned back this past June, my team and I responded immediately. My bill, AB 1666, was signed into law that very day and went into effect immediately, creating a legal shield for California abortion providers and patients from civil legal action taken by states hostile to abortion. Alongside that bill was AB 1242, which was written in partnership with California Attorney General Rob Bonta, and signed into law in September. This first-in-the-nation law ensures law enforcement in California will not participate in enforcing anti-abortion laws of other states, using our unique situation as the home to the headquarters to many of our nation's tech companies and giving them the tools to block out-of-state enforcement orders that seek to prosecute abortions so we can protect their users' private data. I worked closely with my colleagues in the Legislature and with the California Future of Abortion Council on these bills, which were part of a robust bill package aimed at improving reproductive healthcare access and protecting abortion rights.
AB 1287 was also signed into law by Governor Newsom. With the passage of this bill, the pink tax—a discriminatory practice in which identical consumer products promoted to men and women are priced differently—is abolished. This practice has no place in the State of California and I am proud that it will end.
This year, I also partnered with the Governor on his priority bill package of gun control measures and I authored AB 2571, which bans the marketing and advertising of firearms to children. While those under 18 years of age cannot legally purchase a firearm in California, firearm companies have expanded their advertisements to social media platforms and have specifically targeted our youth. As gun violence is the third leading cause of death for our California youth, this is unconscionable. Thankfully, AB 2571 is now law in our state and is in effect.
However, gun safety is just one of the issues that we are grappling with as a state. Wildfires are another critical issue. As climate change continues to worsen, we have seen its effects on California through worsening droughts and devastating wildfires. Our Assembly District is particularly at risk due to being located in a wildland-urban interface. As a resident of Orinda and an advocate for environmental protection, this is the issue that keeps me up at night. As a result, I introduced AB 2083 to close a loophole previously allowing utility companies to use ratepayer funds to cover the legal fines and penalties for legal settlements in wildfire cases. Ratepayers should not and cannot bear the weight of utilities' negligence. AB 2083 was signed into law in September.
Also signed into law was AB 2374, a bill I worked on in conjunction with our leaders in Contra Costa County. I've often heard concerns about illegal dumping from constituents and local officials – particularly, in our open spaces and waterways. This law increases accountability for companies and individuals who discard waste illegally by increasing maximum fines, requiring those convicted of such acts to remove the waste, and requiring our courts to notify appropriate licensing agencies of the illegal dumping.
Another issue that has impacted our communities is the worrying rise in hate crimes and use of terror symbols. Nazi swastikas, nooses, and burning crosses – these are all symbols that have been used to intimidate and terrorize racial, ethnic, and religious minorities. My bill, AB 2282, equalizes criminal penalties for the use of any of these symbols and ensures that the locations where the penalties can be applied to are the same—including schools, public property, private property, places of employment, and public facilities—to ensure that those who decide to spread terror are punished to the proper extent of the law.
Seven more of my bills have been signed into law by the Governor during this legislative session. These bills include the following: AB 1907, which protects seniors by improving nursing home inspections; AB 2089, which creates HIPPA-level protections for information shared by an individual to mental health apps and prevents the apps from then selling that data; AB 2436, which eliminates discriminatory gendered language on state death certificates; AB 2627, which supports community colleges' outreach to underserved communities; AB 2658, which ensures parity for youth in the justice system; AB 2754, which eliminates burdensome requirements for trainees in psychology professions; and AB 2805, which updates the Regional Conservation Investment Strategy to allow for the streamlining of conservation projects.
I am so proud of what we have achieved this year. I am thrilled to have crafted and passed fifteen laws on issues that matter not only to our Assembly District, but to the entire State of California. The protection of reproductive rights, community safety, the environment, and mental healthcare are all issues that I have cared deeply for throughout all these years as your legislator and representative, and to know that my colleagues in the Capitol see the same value in our work is both rewarding and heartwarming.
---
There Ought To Be A Law
Right now, my Capitol team and I are working on our next bill package for the upcoming legislative session. If you, or your organization, have an idea for a new bill that would either improve our communities or solve an issue that you see in your neighborhood, please fill out our There Ought To Be A Law form. Your submission will go directly to my Capitol team, who will then review and evaluate your proposal.
---
Past Events
End of Session Town Hall
In October, my District Office team and I held an End of Session Town Hall to wrap up this past legislative session at the San Ramon Community Center. If you didn't have a chance to attend or to watch it live on Zoom, you can watch it here. 
---
District Office Open House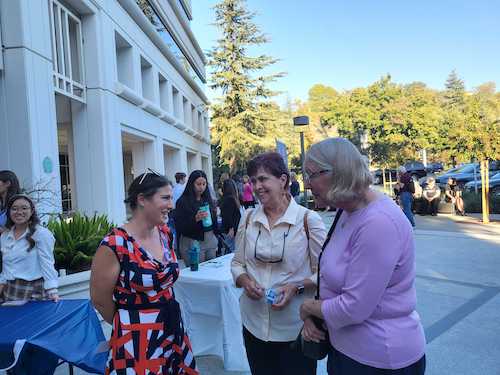 While my District Office team has been located at its current office for over a year, we decided to delay having an open house due to COVID-related concerns and considerations. But now that we have transitioned to our new normal, we held our Open House, inviting constituents, community partners, and our local Girl Scout troops so they could earn their Democracy badge.
---
Sustainable Winemaking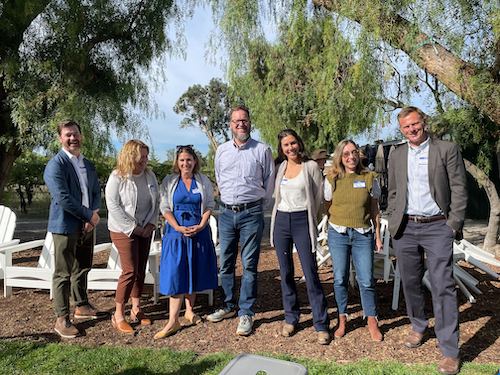 In October, my team and I went to Retzlaff Vineyards in Livermore, the oldest wine region in California, to convene a panel discussion on how winegrowers in California can continue their work while using new methods that are water-wise and sustainable in light of climate change.
---
Flu Shot Clinic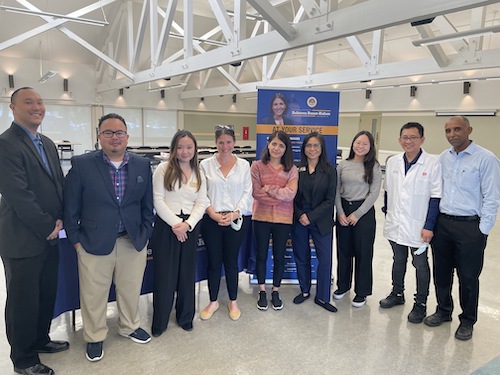 It's Fall, which means it's time to get our yearly flu shots! My District Office team partnered with Walgreens and the City of Walnut Creek to hold a free flu shot clinic so we can be safe this season.
---
Student Debt Workshop
We partnered with the California Department of Financial Protection and Innovation (DFPI) and the non-profit NextGen Policy to provide insight to constituents into the many changes to the federal student loan programs and President Biden's announcement of student debt cancellation. Watch the video above to learn more!
---
988 Update with Senator Alex Padilla
I joined U.S. Senator Alex Padilla to host a 988 webinar. We shared updates about AB 988, heard from the agencies responsible for building out the 988 system in California, and discussed mental health legislation at the state and federal levels.
---
Tri-Valley Veterans Day Parade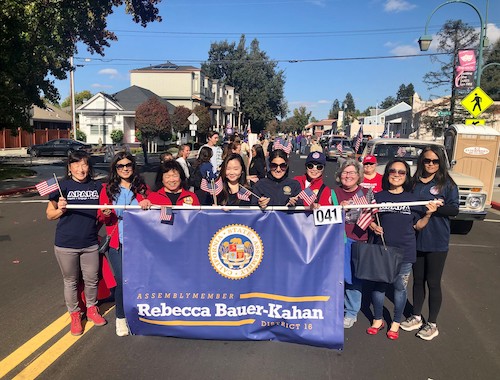 My team, local community members, and I marched in the 25th annual Tri-Valley Veterans Day parade to celebrate and honor all veterans who have served in our armed forces.
---
Spring 2023 Internship
Our application for our Spring 2023 Internship program is now open! We are looking for collaborative, inclusive individuals who are eager to learn and apply the skills necessary to work in a Legislator's District Office, including working with constituents and community stakeholder groups, researching and writing policy memos, conducting community outreach efforts, managing casework, working with databases, organizing civic events, and staffing the office. Internships are open to high school graduates, college students, and adults interested in learning about working in a state Legislator's office; high school seniors are also welcome to apply. Internships with the Assembly are unpaid.
If you are interested in applying for our Spring internship, click here!
---
Middle Class Tax Refund
The California Middle Class Tax Refund is now rolling out! The refund is a one-time payment that goes straight to Californians to provide relief during a time where we all feel the impact of inflation. To determine your eligibility, please check the Franchise Tax Board website. If you have any questions, please feel free to give my office a call at (925) 244-1600.
---
REAL ID
The deadline to get your California REAL ID is fast approaching. As of May 3, 2023, you will need a REAL ID to board a domestic flight, or to enter a secure federal facility, federal courthouse or other federal building. The REAL ID is a driver's license or identification card issued by the CA DMV that meets certain federal standards to make our country safer. To apply for your REAL ID, visit the DMV webpage to learn more and get started online.