Image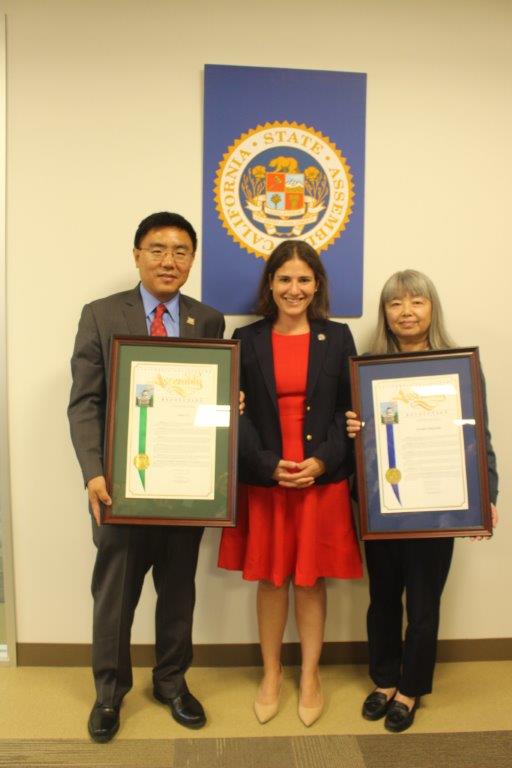 (Sacramento) – Assemblymember Rebecca Bauer-Kahan (D-Orinda) announced her Asian Pacific Islander of the Year award winners for the 16th Assembly District: Hon. Andy Li and Ms. Kyoko Takayama. Both honorees have a long record of service to their communities in District 16 and are role-models for Asian Pacific Islander civic engagement. Through their work, they have promoted civic engagement and electoral participation within the growing API community.
"I am extremely pleased to recognize Andy Li and Kyoko Takayama as my Asian Pacific Islanders of the Year for Assembly District 16, in honor of Asian Pacific Heritage Month," said Assemblymember Bauer-Kahan. "These two honorees exemplify community involvement and civic engagement for our vibrant and fast-growing Asian Pacific Islander community."
Hon. Andy Li is a member of the Contra Costa Community College District Governing Board (Ward 4) and currently serves as the board's Vice President. Born and raised in China, Andy earned his Bachelor of Arts degree in Chemistry from Nankai University. Upon immigrating to the U.S., Andy completed his Master's degree in Computer Science from University of Wisconsin, Madison. Andy is a founding board member and immediate past president of the Tri-Valley Chapter of the Asian Pacific Islander American Public Affairs Association (APAPA). He currently serves as a board member for APAPA's Bay Area Region.
Ms. Kyoko Takayama is a long-time community organizer. She served as a lead organizer for numerous issue-oriented projects to promote healthcare, public transportation, and Community Choice Energy in East Bay communities. A talented event planner, Kyoko brought people together to organize events including the inaugural Women's March Tri-Valley, Rally for Love Tri-Valley, the Families Belong Together Rallies, March for Our Lives Tri-Valley, Act Local Bay Area, and March for Science Livermore. She is committed to training the next generation of organizers.
This is Assemblymember Bauer-Kahan's inaugural recognition of an Asian Pacific Islander community leader in honor of Asian Pacific Heritage month and will be an annual recognition to recognize the contributions of the growing Asian Pacific Islander community in Assembly District 16.
Assemblymember Rebecca Bauer-Kahan represents the 16th Assembly District which includes the communities of Lafayette, Moraga, Orinda, Walnut Creek, Danville, San Ramon, Dublin, Pleasanton, Livermore, and other portions of unincorporated Alameda and Contra Costa Counties. For more information, please visit https://a16.asmdc.org/.