Assemblymember Bauer-Kahan and City Leaders announce funding has been secured for a protected pathway for pedestrians and bicyclists
For immediate release:
Jordan Curley
Chief of Staff
916-319-2016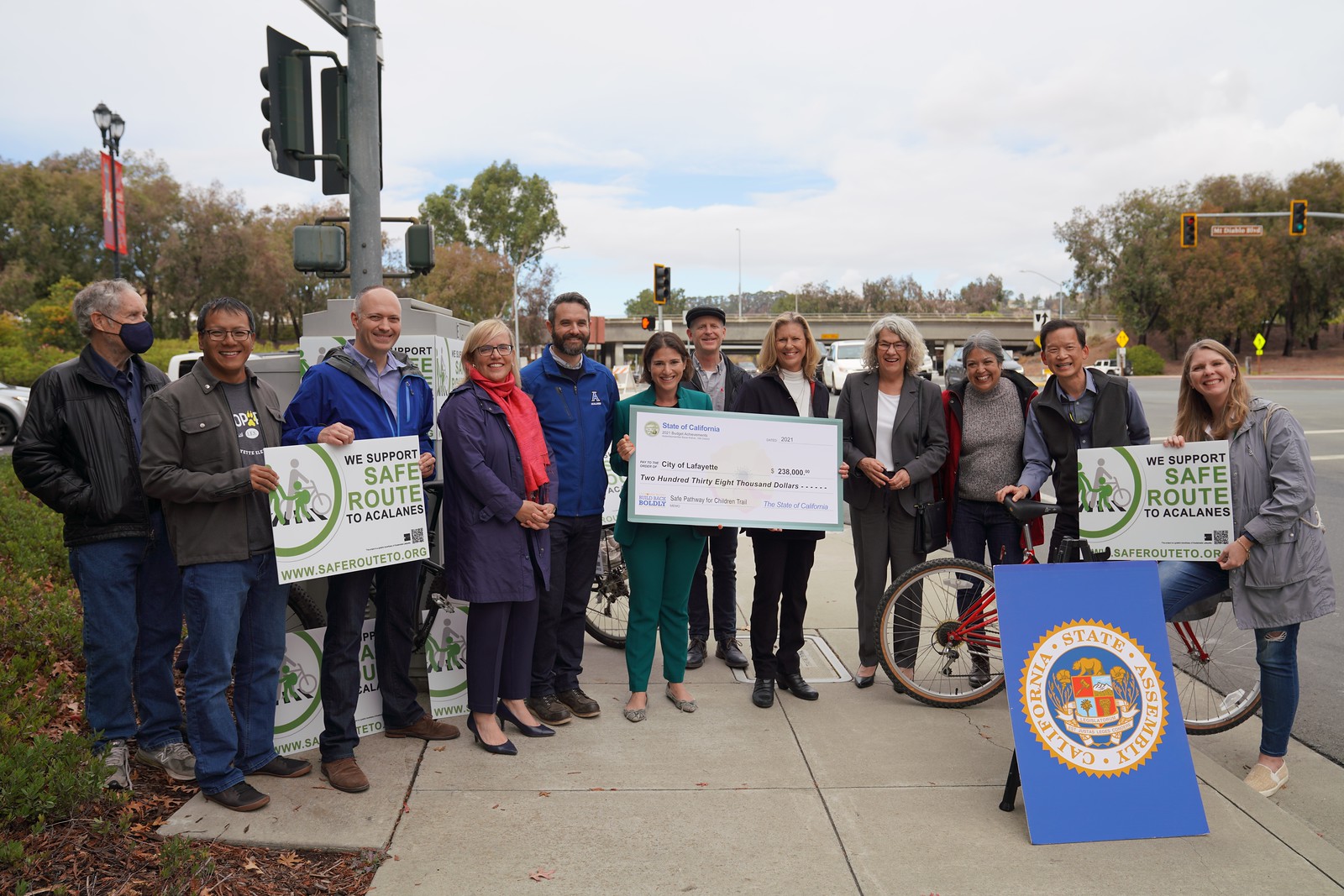 Lafayette, CA – Today, Assemblymember Bauer-Kahan (D-Orinda), and City of Lafayette Councilmembers gathered to announce the acquisition of funds from the 2021-2022 California State Budget to begin the design of Lafayette's important Safe Route to Acalanes High School project.
The project, when constructed will provide students and families with a safe method to walk or bicycle to and from school, during peak commute times, without having to cross dangerous on and off ramps to California Highway 24.
"It's great to see this project moving forward with the support of the Assemblymember and the City of Lafayette," said Eric Law, the Lafayette resident who proposed the idea to city staff. The kickoff for the safe pathway project is possible because Assemblymember Bauer-Kahan and her City partners succeeded in securing state funding of $238,000 in this year's budget to design and prepare for the new protected route.
"On behalf of the Lafayette community, we are very grateful to Assemblymember Rebecca Bauer-Kahan for helping to secure $238,000 in State funds to take the preliminary proposal concepts for the Safe Route to Acalanes project and prepare design plans and environmental documents for this project on an important corridor in our city," said Lafayette Mayor Susan Candell. "The Lafayette City Council has made traffic safety a top priority in 2021, and this project is part of these efforts, and we thank Assemblymember Rebecca Bauer-Kahan for being such a great partner with the City of Lafayette in promoting safer bike and pedestrian access for all."
The project creates a multi-use pathway down the middle of Pleasant Hill Road, utilizing and modifying an existing center median space. Pleasant Hill Road is a major arterial and a route of regional significance serving approximately 36,000 vehicles daily. The new path will provide a continuous bikeway network from Acalanes High School via Pleasant Hill Road that connects to the East Bay Regional Park District's Lafayette-Moraga Regional Trail.
"The Acalanes Union High School District (AUHSD) supports improving safe routes to school for our students. This new funding will help explore this new route to Acalanes High School that has exciting potential to allow more students to bike safely to campus. We appreciate Assemblymember Bauer-Kahan's leadership and the priority she places on improving safe routes to school," said Kristin Connelly, AUHSD Governing Board representative on the Lafayette City/Schools Subcommittee.
"This project supports our goals to reduce emissions and collisions, while at the same time goes a long way towards keeping our students and their families safe," said Bauer-Kahan. "We thank the Governor for including this vital community project in this year's state budget. I am thrilled that my office, working with City of Lafayette leaders, was able to make this happen to support our community and our children," Bauer-Kahan concluded.